Little D is in Tot School and is almost 30 months old.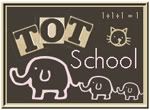 Tot school has been a bit of a challenge, because older brother always wants to do all the fun activities I have planned for Little D instead of his own lessons. Here is a sampling of what goes on during Tot School at our house.
Glueing pictures on paper
Working hard to put the glue on his picture.
Yeah! I did it!
Kumon "Let's Sticker & Paste!" activity.
Trying really hard to peel the sticker off.
Do-a-Dot Letter painting "L" you can find the printout here.



Lining up the Lady Bugs on the Letter "L" our letter of the week.
The lady bugs are from Big D's Lady Bug Building activity.
Pouring & Dumping beans. The boys love when I get out the beans!
They always want to bring in their little construction trucks to load up.
I use garbanzo beans, Big D says they look like rocks.
Look for my next post on Tot School! We have many more fun activities planned!